Jim Lawson Founder
Woodland Community Care Car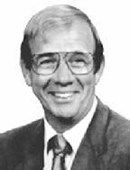 Feb. 23, 1935 - Oct. 6, 2014
Jim Lawson was born and raised in Woodland, California. He attended Laugenour Grammar School then Woodland High School. After completing 11th grade at the age of 17, he enlisted in the Navy. Jim served in the Korean War as a corpsman aboard the USS Reclaimer. When he returned home, he met the love of his life, Lois Ann Hazeman. They were married for 56 years.
Jim worked at Spreckles Sugar then Sunbeam Bread once he returned from the war. He then sold life insurance before embarking on his real estate career. He opened his own real estate office, Lawson Real Estate, in 1969 and added a property management division shortly thereafter. In 1976, he purchased and operated the ERA Franchise for Northern California. He worked with a number of developers on multiple projects in Woodland and started several businesses, such as The Real Estate School, The Rental Information Company and ERA Mortgage services, just to name a few. Jim taught real estate courses and had a lifetime teaching credential at Yuba Community College, known as Woodland Community College today. He sold the ERA Franchise, however Lawson Real Estate and Property Management still exists today.
Jim's commitment to the community was never ending. His greatest accomplishment was starting the Community Care Car, which is still running strong today. Jim was also involved with Meals on Wheels, Y.E.S., and started an Adult Day Health Center. His main focus was helping others and the community.
Jim was an active member of the Yolo County Board of Realtors, President of St. Johns Retirement Village, the Kiwanis Club, where he was President for a period of time, and was very active at the Yolo Fliers Club. He was quite the golfer and enjoyed his social time there as well. Jim was a devoted family man. His true passion was his wife and family. Anybody who was lucky enough to know him, loved him.